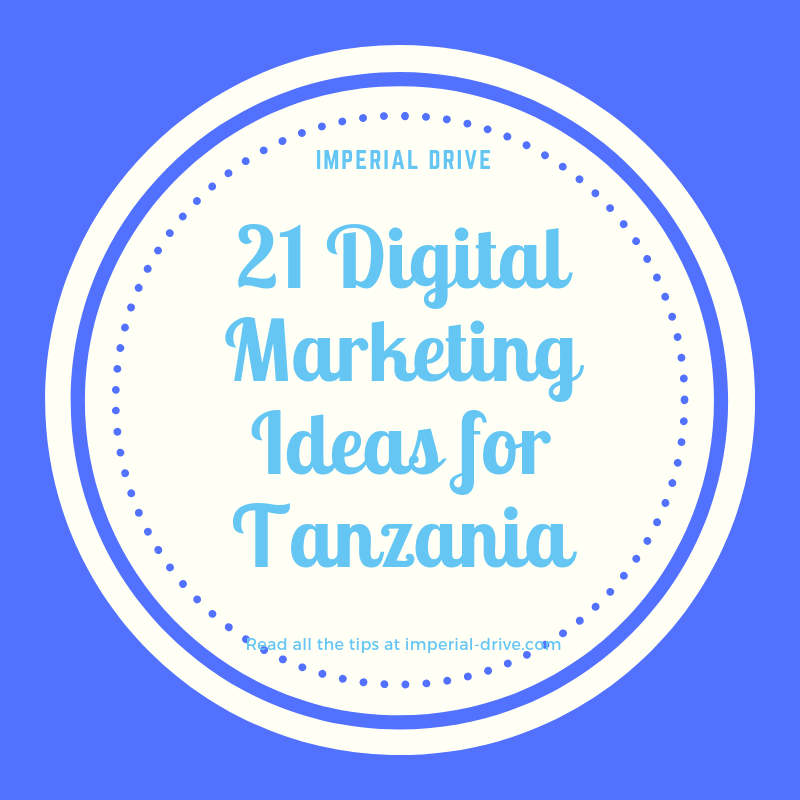 If you are in Tanzania and you have a business, sales and marketing should be your two top priorities. Yes, we all know that networking and 'who you know' matters in Tanzania but digital marketing in Tanzania and online advertising in the country are changing how we all do business. Here are 21 digital marketing ideas that are perfect for all types of Tanzanian businesses irrespective.
Create a Facebook page in English & Swahili
Run a Facebook campaign to promote your products
Launch a Facebook Group where your most passionate fans can congregate and share ideas
Start an email newsletter and send 2 newsletters per month – you can use MailChimp or Klaviyo to send newsletters
Leave your business email in your Twitter biography
Add your website link in your Instagram biography
Update Instagram Stories daily to showcase daily offers for your business
Use Facebook Stories to capture more people in Tanzania on Facebook
Create regional offers for people in Mwanza, Moshi, Arusha and other Tanzanian cities. Regional customers are passionate and loyal to brands that care about them. Make an effort to launch regional offers in Tanzania if you want to see success.
Update your company blog at least 2 times per week to generate organic traffic for your business
Claim your Google My Business Profile so that people can find you when they search automatically
Run a Google Ads campaign targeting Dar-es-Salaam consumers to increase online sales
Do a branding campaign using YouTube Ads
Improve your Tanzanian SEO by creating landing pages for your market and insurance and location. For example, if you are the owner of an insurance agency in Tanzania, you could create one landing page that says 'Insurance Broker Dar-es-Salaam' or 'Insurance Broker Mwanza'. This will help more people find your business.
Shoot YouTube tutorials showcasing how your business works
Use Instagram Hashtags to increase followers
Write bilingual posts in English and Swahili to reach as many people as possible
If you have a consumer business in Tanzania, create a Pinterest profile to post pictures of your products and link back to your website.
Create a digital marketing strategy for 2019 for your Tanzanian business by focusing on where your customers are
Work with influencers in Tanzania to encourage more direct sales and follows for your brand
Do A/B testing to see which marketing platforms work best for you
These 21 digital marketing ideas will work beautifully for Tanzanian companies and startups that are looking to grow user bases, revenues and profitability. For more awesome ideas, email kagem [at] imperial-drive.com.
Read More