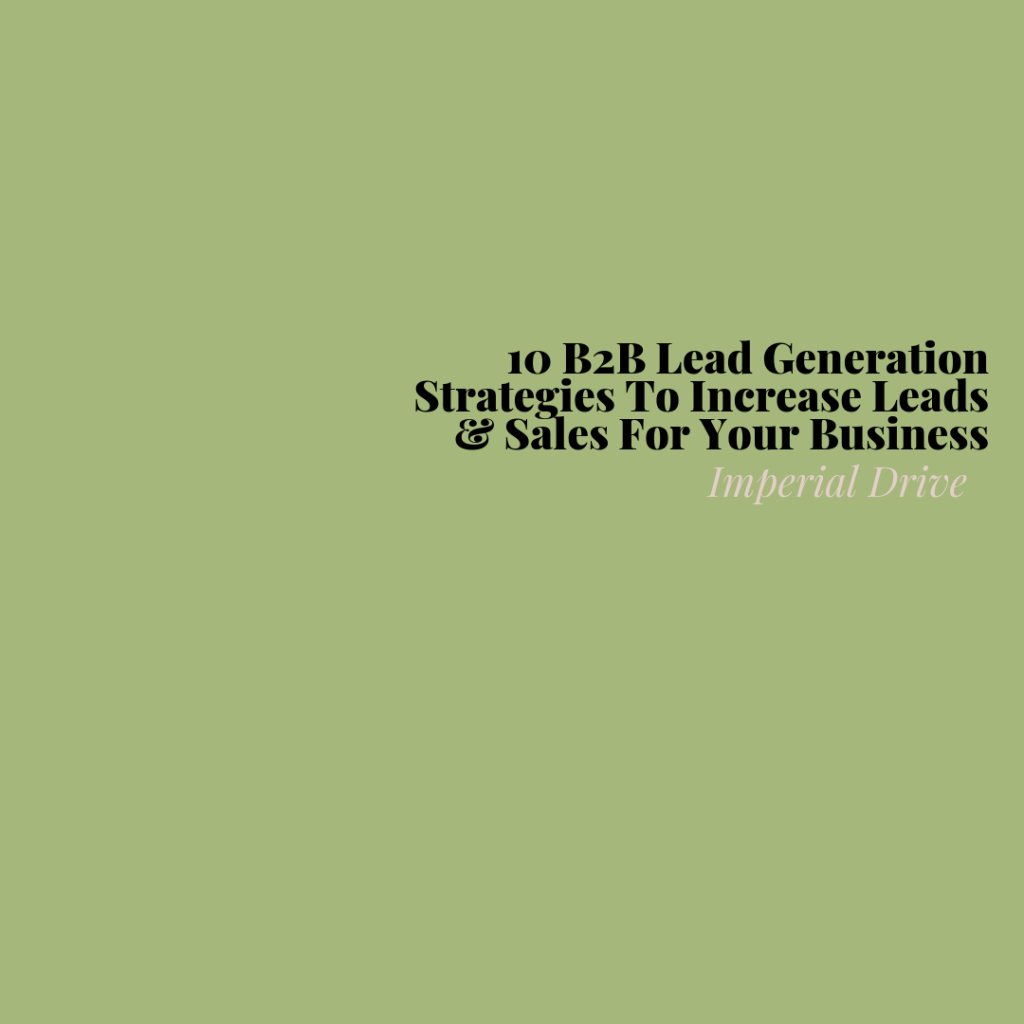 Create Q&A headline posts on your company's blog
More people are enquiring via search engines by asking questions. For example, if someone is looking for content marketing ideas, s/he might write 'how to create content marketing for my business'. Questions are popping up every single day as searches – you should be creating Q&A headlines as posts for your small business because it will help your company's website be found easier for search. My first suggestion is to write at least 2-3 Q&A posts per month for your company's small business. You should write these posts framed as the most popular questions you get asked. For example, an accountant might be asked how much their accounting services cost per month by a small business while an estate agent or real estate agent might be asked how much an average house they sell costs.
2. Create case studies
Case studies are unique currencies that you can use to find new leads for your business. Whether you are an accountant, real estate agent, or entrepreneur, a case study shows potential clients what your company can do and what type of results you can generate for your clients. Case studies should ideally be done with the permission of your client but you can also write general case studies connected to your industry to show your in-depth knowledge. When it comes to writing case studies, it is best to work with a content marketing professional (you can email me at kagem@imperial-drive.com for ideas) or you could try and write it yourself. Case studies are evergreen content that will last for a long time as long as your work is actually good. Once you have written your B2B case study, publish it on your website. Share it via your company newsletter. Ask all of your employees to share it via Twitter and LinkedIn on their profiles as well. Ensure that the case study is written following SEO rules and tips so that search engines such as Bing and Google can find it.
3. Encourage reviews via Google My Business
Google My Business is the business listing service created by Google. You can get verified on listing on there. This is an excellent form of lead generation because anyone who searches for you should see the listing first. This listing service is ideal for people who work in physical services such as HVAC, plumbing but it also works for people in white collar industries like accounting and legal. Whenever you service a client for your business, encourage him or her to leave a review for your business on Google My Business. People trust reviews and the more positive reviews for your small business, the higher likelihood that they will contact you to purchase your products and services.
4. Create a consistent blogging schedule & promote your content
Blogging is one of the easiest way to generate leads for your B2B business. Many small business owners do not know where to begin and think that writing 1 or 2 pieces of content is enough. It isn't. You need to create a consistent blogging schedule for your B2B business and stick with it in order to see results. Inbound leads from websites tend to come via content marketing and paid marketing. If you want organic leads for your business, you should be writing 2-4 pieces of content per week. Once you have created your blogs and content, you should move onto promoting them. Each B2B business has a different approach to promoting content. My advice is think about where your potential B2B buyers are. LinkedIn is extremely important for promoting B2B blogs, however Twitter and Facebook work too. B2B buyers are people too, they have families and friends and chances are if you promote your B2B content in your own Facebook group, people will find it and if they are interested, they might contact you about your services. Pinterest should also be used in your B2B content marketing efforts especially if your B2B business has a visual element such as if you sell commercial property or commercial real estate. Each time you publish your blog, go on LinkedIn, Twitter, Pinterest or Instagram and share your content. After a few days, repeat this promotion tactic so that more people see it. To track how people are consuming your content, use bitly to track your links so you can see who is clicking.
5. Use non-invasive calls-to-action
Call-to-action online have evolved beyond 'sign up' or 'buy now'. If you are in the B2B space, you can encourage leads to take a proactive stand by using calls to action that make sense. In our line of work, we encourage potential clients to send us emails so that we can learn more about their issues, for example, if you need help with content marketing & lead generation, you can email me at kagem [at] imperial-drive.com. If you are an accountant, you should have your phone number visible on your website in content so that potential clients can call you especially. Doctors, dentists, plumbers and technicians would benefit from adding emails and phone numbers together at the bottom of every blog post. You don't have to write in an overtly sales-like manner at all. Just let people know how they can contact you anyway that they want. When it comes to then actually needing an accountant, lawyer or doctor, you will be the first person they call because they will remember your content and your phone number at the end of all of your blogs.
6. Create landing pages that convert
Landing pages are smoking hot at the moment in marketing because of their potential in generating a lot of leads for all types of B2B business. I have tonnes of ideas when it comes to creating and writing landing pages that convert. One of my favourite strategies for using landing pages as lead generation is to create a landing page based on one service that you sell. Let's say you are a real estate agent and you are trying to sell a commercial property. You need to think about who is the ideal B2B buyer for the commercial property that you are trying to sell. The ideal B2B buyer may be a small local company that wants to expand their business without moving to another city. The ideal buyer could be an entrepreneur who wants a commercial property that they can rent to other potential business tenants. Likewise you could have an investor who wants to purchase commercial property in order to hold it. Now that you have your three potential buyer personas – your landing page should focus on the one thing that these 3 segments have in common: they are looking for commercial property as an investment because they feel good about their business prospects in the future. The landing page should focus on buying a commercial property as an investment into your future with a clear call to action such as a form to fill out so that the estate agent can contact these leads within these 3 B2B segments. Your landing pages should always serve one overarching theme (in this case commercial property as investment) but they should be broad enough to reach different types of people within the segment.
7. Use your LinkedIn Company Page to find new leads
LinkedIn is a goldmine for B2B lead generation but it can be bulky, difficult to navigate and it is definitely a pay to play world where companies with big budgets are seen before those that do not have a lot to spend. If you want to test out LinkedIn for organic lead generation, use your LinkedIn Company Page as a breeding ground for growing new lead generation opportunities. Let's say you are running a B2B software company. Your target market will mainly include people who work in the IT department at companies and CIOs (chief information officers). Update your Company Page on LinkedIn with links to blogs but also create LinkedIn content and look at your analytics by seeing who likes the content you are creating. As you grow your follower list on your Company Page, create calls to action that encourage followers to sign up for free trials for your software products. By using this Company Page to generate sign ups for your B2B services, you are taking advantage of this golden opportunity before LinkedIn changes its' algorithm.
8. Create an amazing lead magnet to attract new leads
Lead magnets are pieces of content that will make someone want to exchange their email for your content. If you are a plastic surgeon, you could create a lead magnet focusing on everything a customer needs to know about plastic surgery. If you are an accountant, you could create a lead magnet about how small businesses can stay profitable through good cashflow management strategies. The lead magnet should be free – and your landing page should have a form where the person can fill out their name and email in order to receive it. I like Thrive Leads to generate leads as they have solid interfaces for their forms and pop-ups. Once you have created your lead magnet which will require an excellent graphic designer and copywriter, you should assign a budget to promote it via Facebook, LinkedIn and search (Google/Bing). If your lead magnet is targeting an older crowd aged 45+, use Bing as this search engines skews towards an older demographic. B2B buyers are everywhere so you should test paid social and paid search to see what works. After you have received a few dozen downloads of your free magnet, with permission of course, you should put the people who downloaded the lead magnet onto a separate email list that you can nurture with effective email newsletters. Eventually, you can give them an offer after a few weeks to see which leads actually want to buy your services.
9. Write powerful email newsletters
Never underestimate the power of email when it comes to generate revenue or referral traffic. Email newsletters are absolutely perfect for nurturing your audience but also for introducing you to a whole new world because of the fact many emails get forwarded or shared with friends, family or colleagues. Let's say you are an accountant and you want to grow your client base. You already know that word of mouth and referrals are going to be critical for your accounting business. You should be focusing on using email as a way to encourage people to spread the word about your accounting services. Write email newsletters that focus on making financial topics interesting for small business owners. For example – you could tackle the controversial topic of invoice terms such as Net 30 and Net 60 and ask your email subscribers whether they think credit terms help or hurt cashflow for small business owners. By creating engaging content via email, you are increasing the chance of your email newsletters to be forwarded and shared which can increase inbound lead generation for your business.
10. Create a channel sales strategy inspired by lead generation
This is one of my favourite strategies for generating B2B leads for any type of business in the commercial sector. The first thing you do is find companies that do not compete with you but they need to sell to the same audience as you. For example – if you are running a web design agency, you sell web design services but you might not want to focus on doing branding or graphic design. Find a graphic designer who wants to create graphics and refer business between each other. Anytime you get a web design client, your graphic design partner should do any graphic work that comes through as an upsell and be credited for this work. When your graphic design partner receives an organic referral, you should be given any web design work that comes from their end. By doing mutual channel sales, you can grow your sales and revenue together without stepping on each others toes. By using channel sales, you are exposed to each other's leads in an organic and systematic way. This does not only work for companies in the digital marketing sector. If you are a real estate agent and you are selling properties, you could partner with accountants, lawyers or financial advisors to help the end B2B client with purchasing your property.
Be inspired today with B2B lead generation & grow your business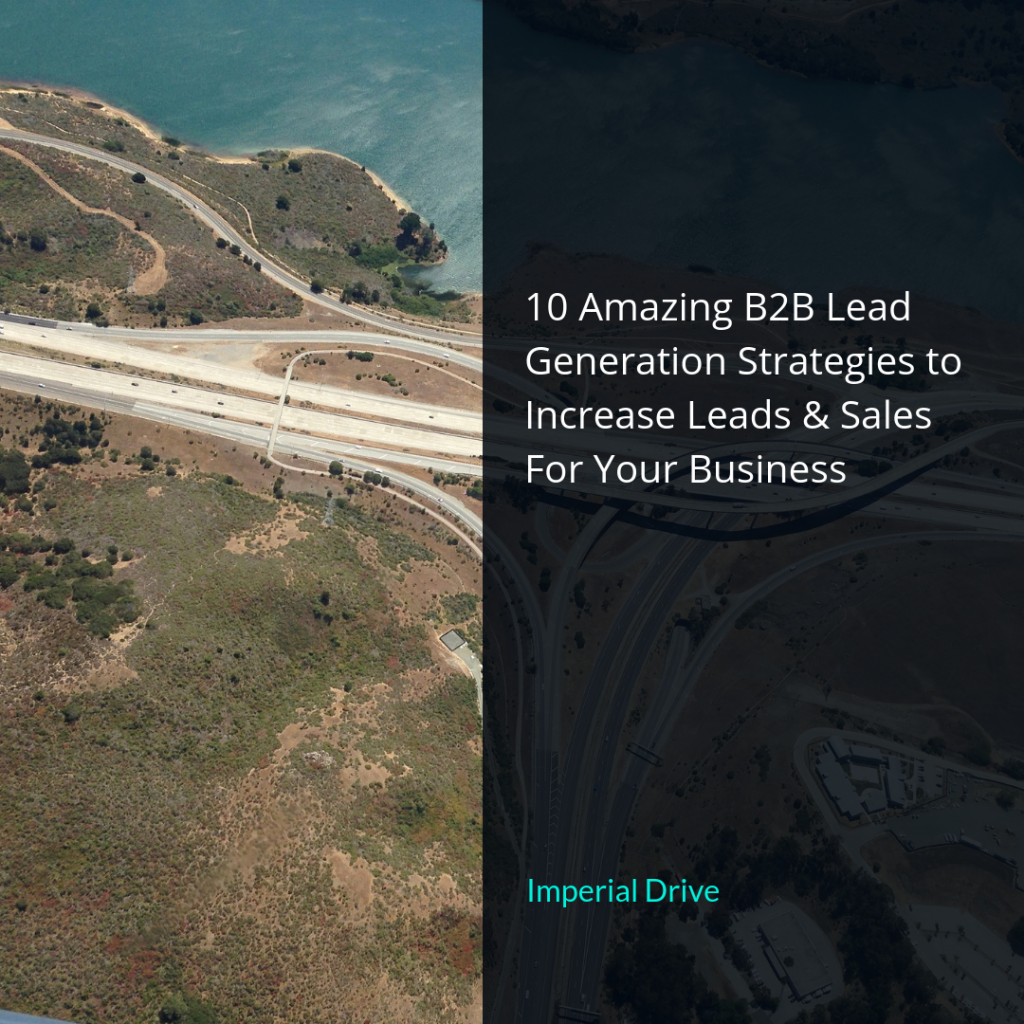 These 10 B2B lead generation ideas are meant to inspire you to get laser focused on success when it comes to increasing your sales and revenue. It goes without saying that cold calling and cold emailing should be part of your B2B sales strategy. The inclusion of these 10 ideas is meant to supplement your current sales strategy so that your business can flourish and grow.
Want to continue to boost your B2B lead generation and do you have any questions about how to increase leads in even more detail?
Ask me anything you want by sending me an email at kagem [at] imperial-drive.com.